Idea & Portfolio Management
Manage and monitor your ideas and innovation portfolios, whether they are employee ideas, external startups or research projects. Engage your employees or external communities to help drive innovation in your organization.
Idea management

Keep track of a continuous stream of ideas and projects from collaborators.

Accelerate innovation

Automate every step in the innovation and ideation process with pipeline management

Knowledgebase

Build a repository of searchable ideas from past and present initiatives.

Save time & resources

Only invest in and develop idea and innovations that impact your bottom-line. 
Key Platform Features
A complete solution to help you and your team bring the best ideas to life with a simple and intuitive idea management software.
Easily configure the innovation and ideation workflow
As ideas flow in, manage a pipeline of live opportunities by building your custom innovation workflow and configure the end-to-end ideation program according to your requirements. Create custom profile pages for ideas and users and easily move ideas and projects from one stage to the next, collaborating with your stakeholders through every stage.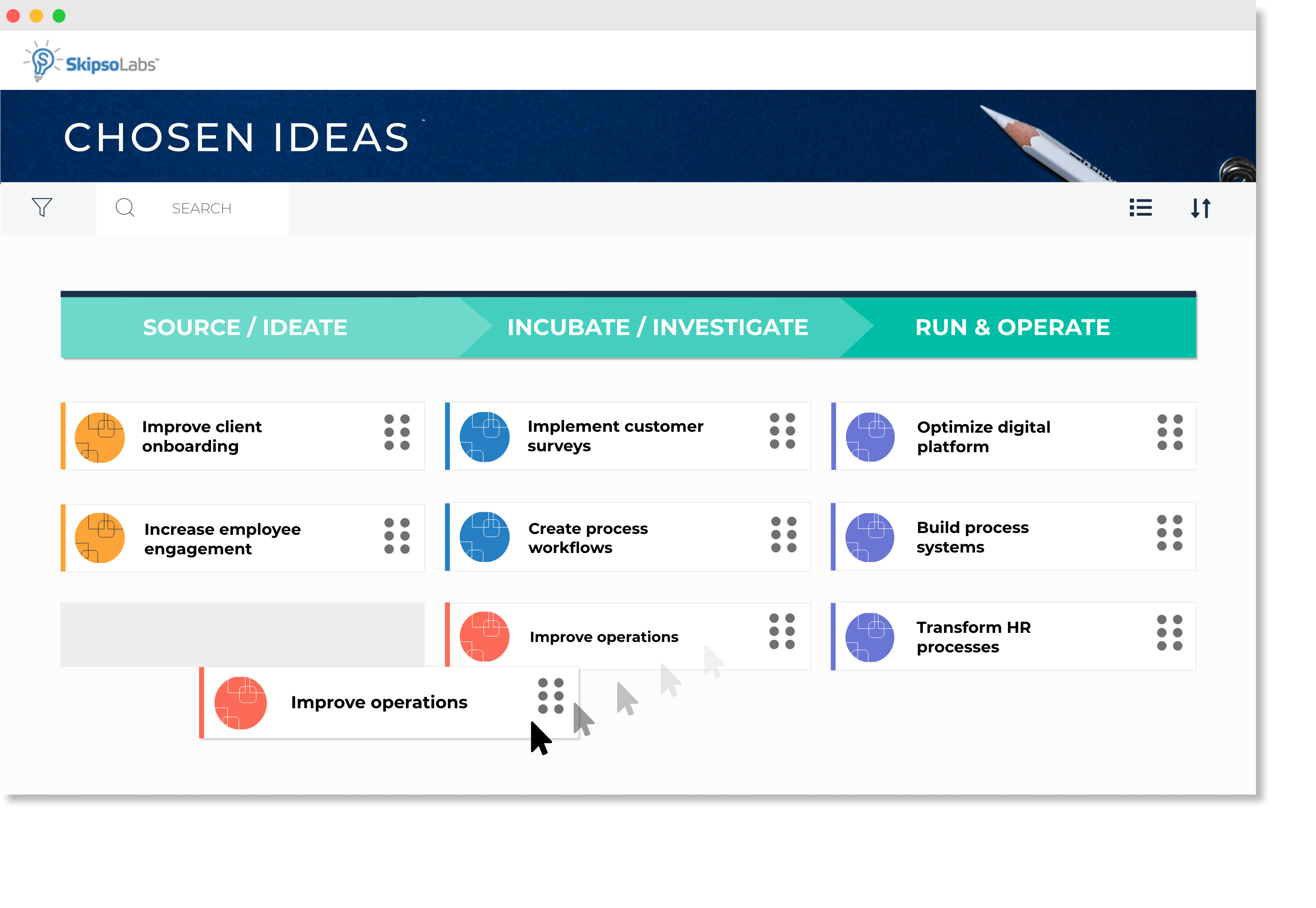 Enable multiple types of idea generation
The Idea & Portfolio Management platform enables you to create different ideation programs for different audiences on the same platform: engage your internal teams and business units, allow users to upload ideas on an ongoing basis, or crowdsource ideas from all your external networks and communities (suppliers, partners, customers, the public at large).
Engage stakeholders to contribute
Giving ideas, startups or projects the best chance to advance through to the next stage of the idea or innovation funnel requires a collaborative effort and efficient rating. Seamlessly allocate users to ideas and invite groups of users to evaluate and collaborate on ideas according to predefined scorecards. Allow stakeholders to leave comments and collaborate using our MSTeams integration, to facilitate continuous feedback and development on projects. 
Create your repository of innovation and save time maintaining it
As ideas and projects are added to the system, allow your team to have access to a repository of innovative ideas, projects or startups. Save time spent entering idea, startup or project data by asking owners to fill in or update their profiles themselves. Create transparency around innovation and invite users to easily browse, filter and search for ideas or projects saved on your platform.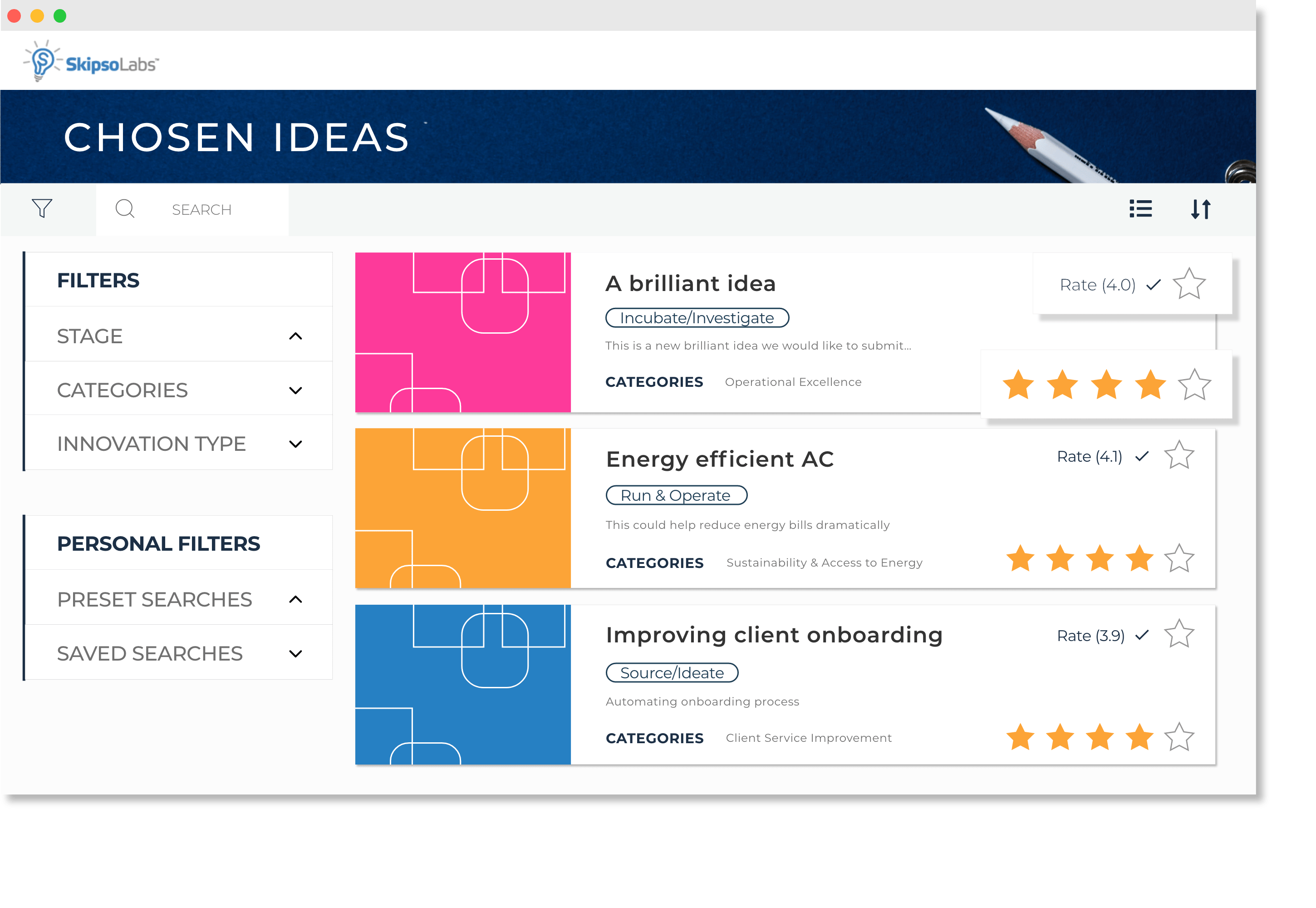 Track program performance with Key Performance Indicators
Utilize reports and data export functionalities to efficiently track program performance and ideate at scale. Allocate and monitor key performance indicators or allocated budgets (e.g. mentoring hours, project budget etc.) for any innovation or project. This enables your team to stay continually informed about how your program is progressing across your entire innovation portfolio. 
The SkipsoLabs team has worked incredibly hard to make the program an outstanding success. The team's effort as well as the high flexibility of their online awards management platform were absolutely essential for the great overall success of this program!
Arne Kötting
Communications Manager, Syngenta Crop Protection
Our Product Suite
Check out our complete range of innovation solutions.